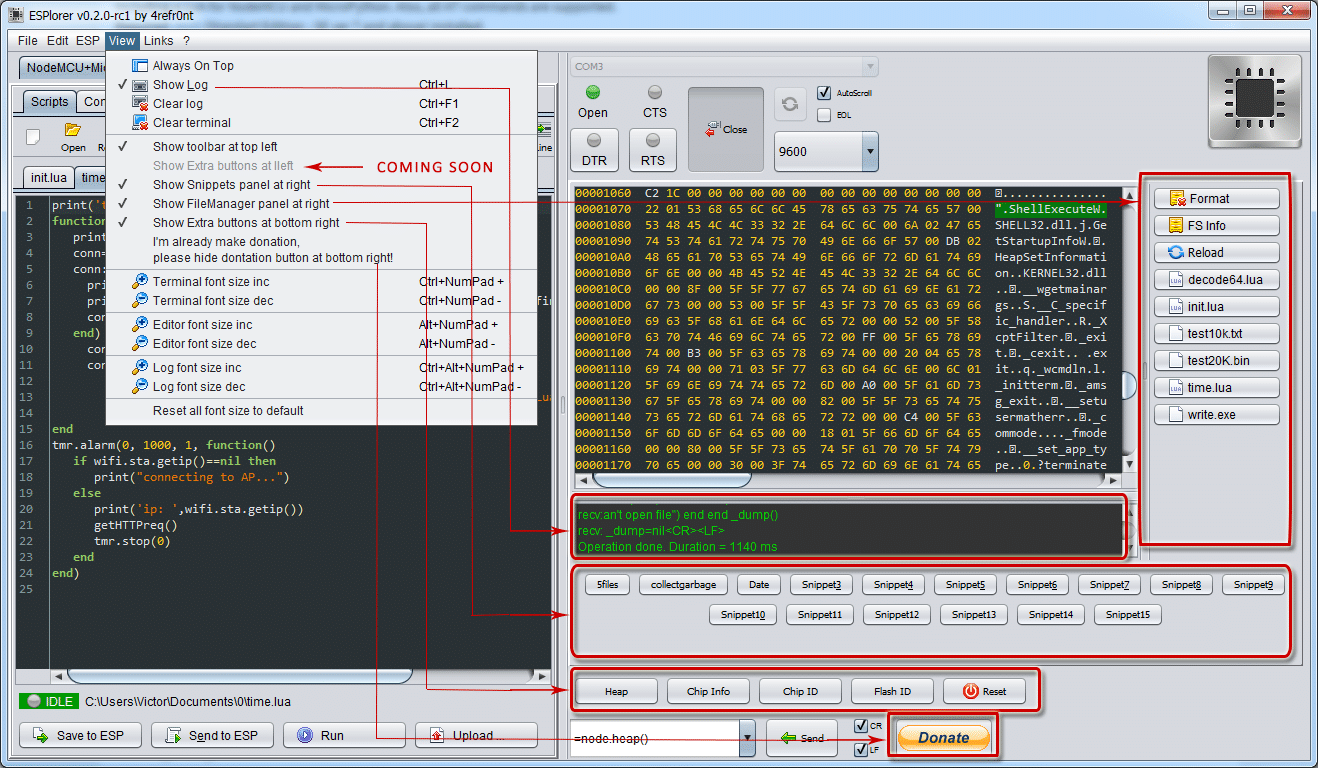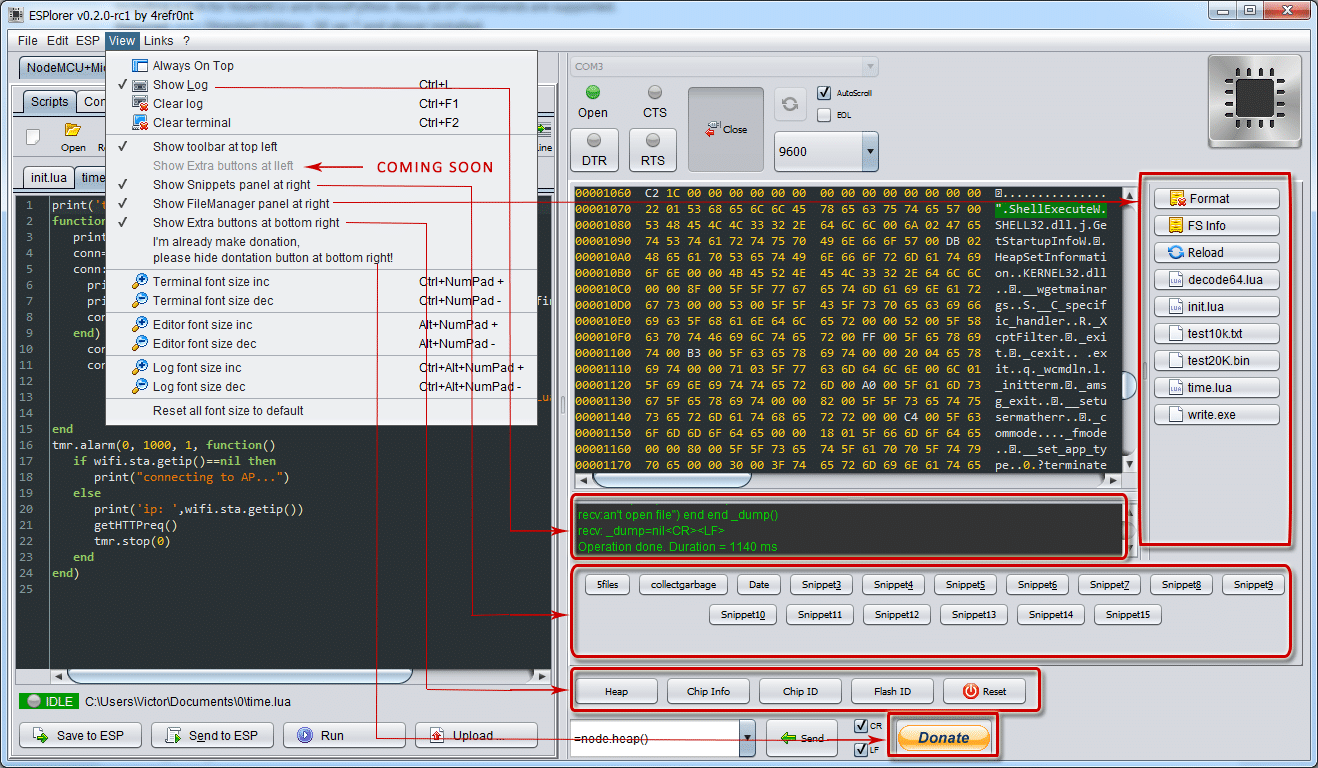 ESPlorer — Integrated Development Environment (IDE) for ESP8266 developers.
Package Description
The essential multiplatforms tools for any ESP8266 developer from luatool author's, including a LUA for NodeMCU and MicroPython. Also, AT commands are supported.
Required JAVA (SE version 7 and above) installed.
Supported platforms
Windows(x86, x86-64)
Linux(x86, x86-64, ARM soft & hard float)
Solaris(x86, x86-64)
Mac OS X(x86, x86-64, PPC, PPC64)
Detailed features list
Syntax highlighting LUA and Python code
Code editor color themes: default, dark, Eclipse, IDEA, Visual Studio
Undo/Redo editors features
Code Autocomplete (Ctrl+Space)
Smart send data to ESP8266 (without dumb send with fixed line delay), check correct answer from ESP8266 after every lines.
Code snippets
Detailed logging
and more, more more…
Tutorials for NodeMCU firmware
Tutorials for MicroPython firmware
Recomended hardware for advanced users by ESPlorer developer
Recomended hardware for starting fastest by ESPlorer developer
ESPlorer Downloads
Donation
For donations by credit/debit card, eWallet, or internet banking (selected countries), please click on PayPal Donation Button.

Bug reports and discuss
ChangeLog
At now, in progress — MicroPython supporting.
0.2.0-rc5
rsyntaxtextarea updated from 2.5.6 to 2.5.8
0.2.0-rc4
Microchip RN2483 (low-power long-range LoRa tehnology transceiver module) supporting
0.2.0-rc3
MicroPython firmware autodetection
MicroPython syntax highlighting
MicroPython files extensions *.py and *.pyc added
MicroPython SendToESP command (send current file from editor window to ESP8266, ALT+E)
MicroPython SendLine command (send one line from editor window to ESP8266, ALT+L)
MicroPython SendBlock command (send selected block from editor window to ESP8266, ALT+B)
MicroPython Coomands Tab: GPIO reading and writing, WiFi and TCP connetions)
MicroPython Snippets (user editable code blocks, buttons for fast executing)
MicroPython manual entered commands history
MicroPython code autocomplete CTRL+SPACE
Show/Hide editor window for using as simple colored terminal
Show/Hide terminal window for full-screen code editing
Bugs fix
0.2.0-rc2
add skin selector (standart java LookAndFeel, platform depended)
firmware autodetection can be disabled (new option on «Settings» tab)
decreased minimum window size for low-res screens
v0.2.0-rc1
add new cool ESP FileManager. Commands in popup menu: Run, Compile(New!), View(old Cat), Edit(New!), Download(New!), Rename(New!), Remove (available commands depended file extension)
add «Upload file to ESP from disk» function (include binaries files) in left bottom panel
add «Download file from ESP to disk» function (include binaries files) in file manager
ESP files list ABC-autosorted
add new button FileSystemInfo (new command file.fsinfo() since firmware 20150311 and later)
add firmware autodetection after serial port open
add check communication with MCU after serial port open or «change speed on the fly»
change default window size to 1024×768 and new UI conception
change: in all buttons/command «Run» against «Do», «View» against «Cat»
expanded field for serial port name
add «CustomSerialPort» on «Settings» tab (if enable this, PortScan never execute)
add DTR and RTS buttons with LED
add CTS LED
add new «Links» menu
add NodeMCU specific right panel (Heap button, Chip Info button, Chip ID button, Flash ID button)
add toolbar Show/Hide command in «View» menu
inc size of toolbar buttons
add Snippets panel Show/Hide command in «View» menu
add FileManager panel Show/Hide command in «View» menu
add Right extra buttons panel Show/Hide command in «View» menu
add «Use external editor» option on «Settings» tab. All files ReadOnly
add «EOL» option — EOL visible in terminal window
add new mode for snippets: Condensed executing (please, do not use this mode if you use commands without left operand: «=node.heap()», but «x=node.heap» work ok)
fix AutoComplete (Ctrl+Space) bug for commands contains «.»
fix «AutoSave/AutoRestore setting enable/disable log window» bug
fix bug: exit app without save files
disable setting «AutoRun file after Save to ESP» (for do this — you can use new button «Save & Run» in 2.0.0-final version)
all settings autosave when changed and autorestored after app launch
window size autosave on close and autorestored after app launch
editor: tab size changed from 5 to 4
library rsyntaxtextarea updated to version 2.5.6
some code refactoring
improve stability
now semver.org versioning conception (MAJOR.MINOR.PATCH)
v0.1 build 206
add file.format from NodeMCU 20150107
AutoMagic cleaning of CMD-History from Mike (DL2ZAP)
add several commands to Command combo-box
v0.1 build 205
ESPlorer — open source now!
add «TurboMode» feature. My tests: File size: 3300 byte, 100 lines, baud rate: 115200, Download time: 1.8 sec
Terminal window have syntaxhilighter too (as editor)
Java 7 & 8 compatible now
v0.1 build 204
add «AutoReConnect» feature: after port open on 9600, you can easy change port speed to other baud rate without running snippet
add new settings: max size for log and max size for terminal history for fixing «everything gets terrible slow» bug
rearrange snippets buttons, add «Snippet Cancel Edit» button
add snippets hotkey: for snippet0 — Alt+BackQuote, snippet1 — Alt+1, snippet9 — Alt+9, snippet10 — Alt+0, snippet11 — Alt+Minus, snippet12 — Alt+Equals, snippet13 — Alt+BackSlash, snippet14 — Alt+BackSpace, snippet15 — no hotkey.
v0.1 build 203
add AutoScroll Enable/Disable
add new serial port baud rates: 230400, 460800, 921600
v0.1 build 202
add «Inc/Dec font size» commands for editor, terminal and log windows
remove all terminal autoclear actions
bug fix (save settings)
v0.1 build 201
add «Dumb Mode» for old-style sending data with line delay (see Settings tab)
add code snippets feature
add «Send current Line to ESP» command
settings, last used serial port & baud, last script folder autosave/autoload now
hotkeys revised
v0.1 build 200
bugs fix
add commands history
v0.1 initial public version